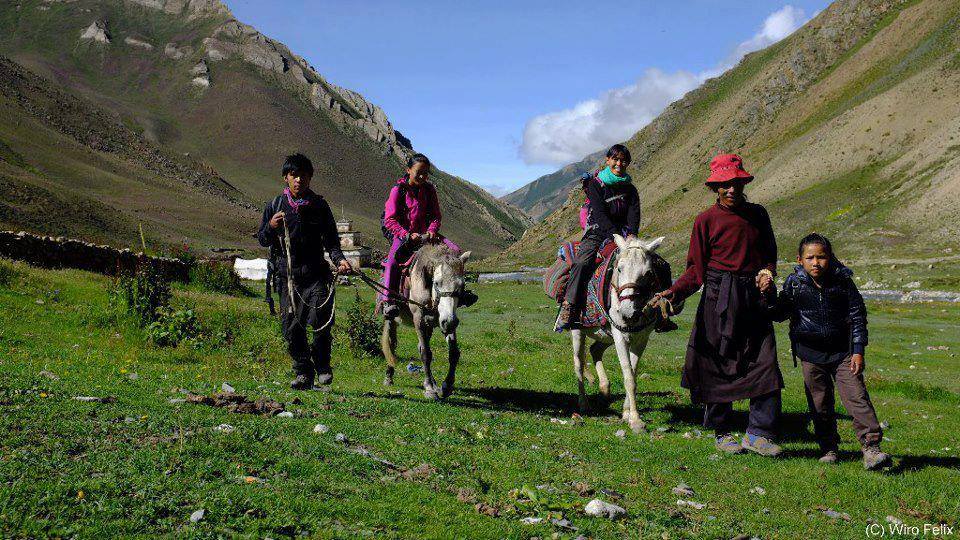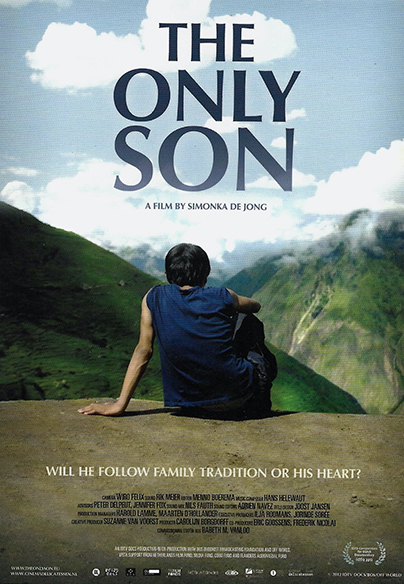 The Only Son (2012), winnaar van de IDFA Publieksprijs in 2012. En een gouden kalf nominatie in 2013. Het is een documentaire van Simonka de Jong. Het gaat over de Tibetaans familie uit Dolpo in Nepal, waarvan de kinderen in verschillende culturen zijn opgegroeid. Sumchog broer Pema is opgegroeid in het kinderhuis van ROKPA in Kathmandu. Toen hij achttien jaar oud was, moest hij van zijn ouders trouwen met een meisje uit hun bergdorpje. Iedereen in de familie heeft zo zijn eigen opvatting over dit uithuwelijken. De film gaat over: Volgt hij zijn hart of de wensen van zijn ouders?
Scenario en regie: Simonka de Jong Camera: Wiro Felix (Nepal), Paul Cohen (NL) Geluid: Rik Meier (Nepal), Martijn van Haalen (NL) Montage: Menno Boerema Muziek: Hans Helewaut
Een productie van IDTV Docs in co-productie met Offworld Belgie en de Boeddhistische Omroep Stichting, met steun van Nederlands Filmfonds, Mediafonds, CoBOFonds, en VAF. Lengte: 78 minuten.
Meer informatie klik deze link: The only son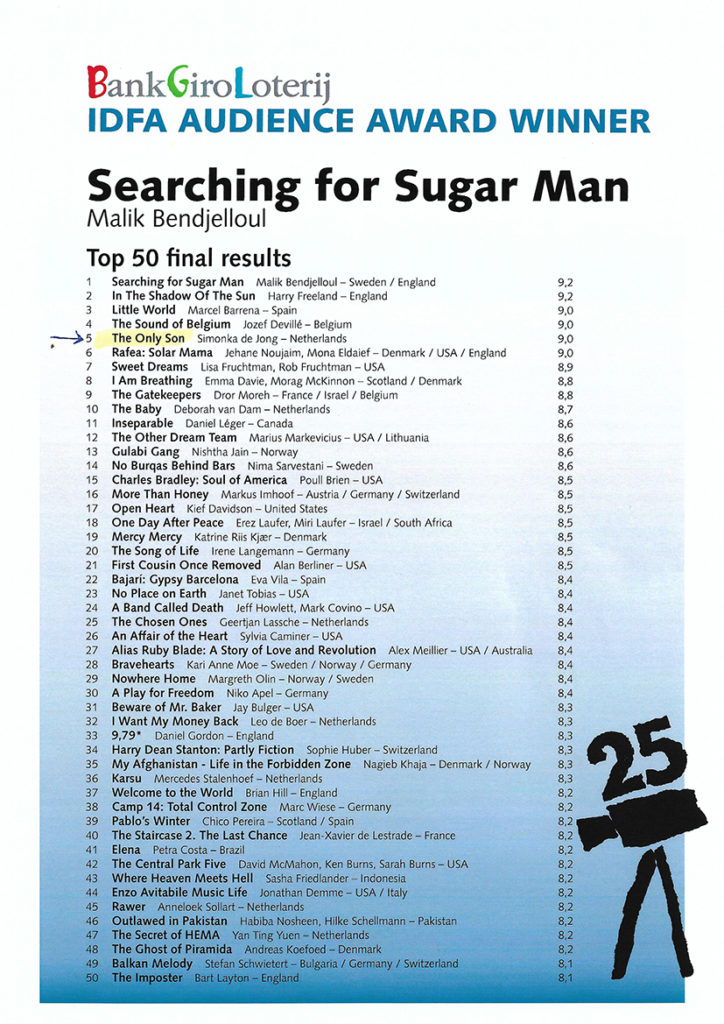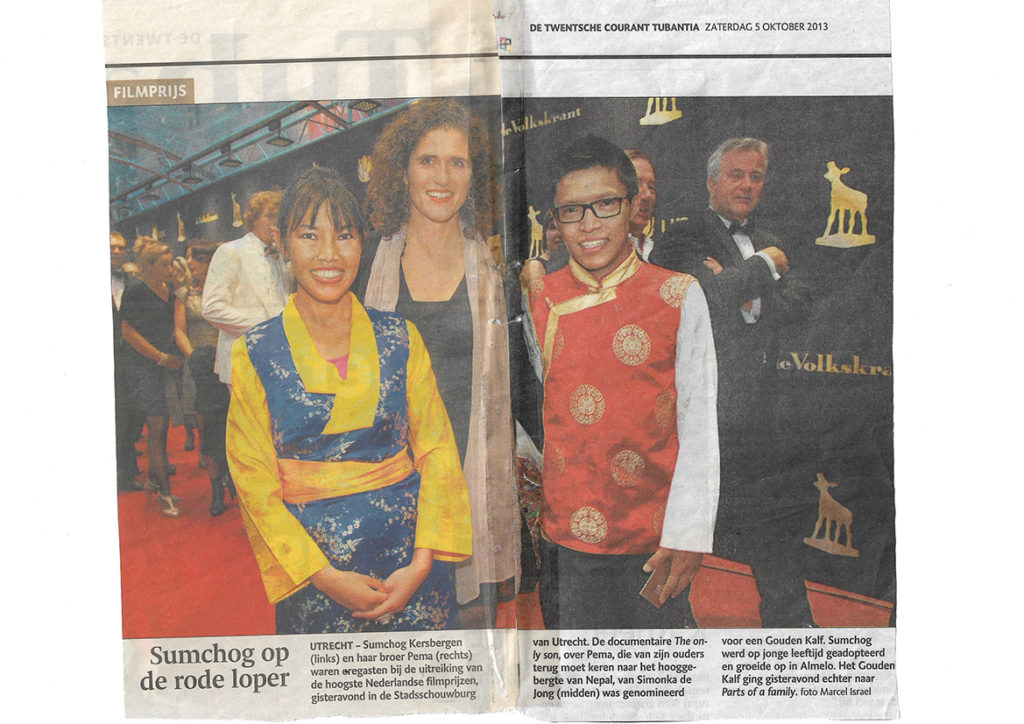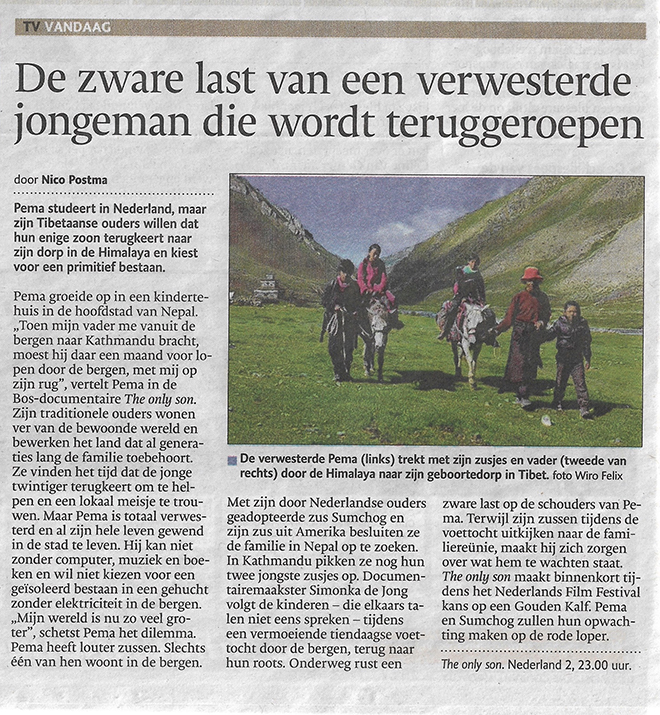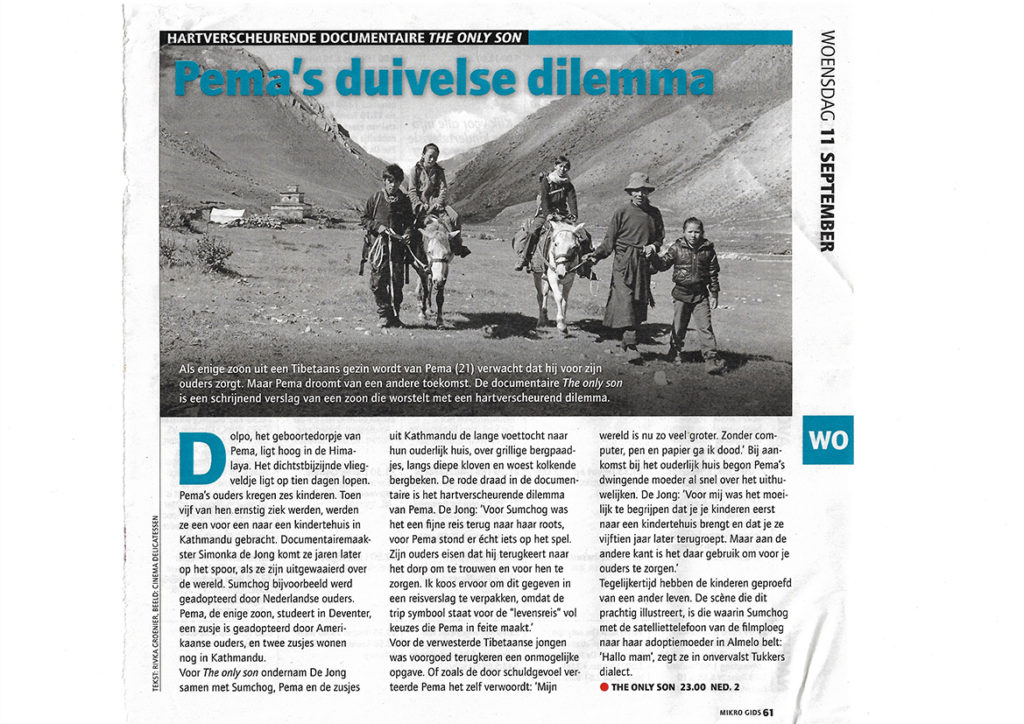 DIGITALE PUBLICATIE LINKS
NFF – Nederlandse Film Festival / Gouden Kalf 2013 Nominaties: https://www.filmfestival.nl/nieuws/bekendmaking-alle-nominaties-gouden-kalveren-2013
Nu.nl / Gouden kalf 2013 nominaties: https://www.nu.nl/nff/3593229/nominaties-gouden-kalveren-2013.html
Cinema Delicatessen: http://www.cinemadelicatessen.nl/film/the-only-son/
IDFA Tour 2012: https://www.idfa.nl/nl/film/9c2f8f05-0140-43cc-aecd-3965b26d7832/the-only-son
The best of IDFA: https://www.lantarenvenster.nl/programma/best-of-idfa-2012-on-tour-1/
2 Doc.nl : https://www.2doc.nl/…/hollanddoc/2013/the-only-son.html
Korea: https://eidfblog.tistory.com/478
Video Land: https://www.videoland.com/films/44795/the-only-son
Nepal now blog: http://www.nepalnow.blog/siddhartha-gallery-focus-dolpo-we…/
Israël: http://www.docaviv.co.il/en/2013/films/2435
Canada: https://www.vaf.be/nieuws/junior-en-circle-naar-canadese-hot-docs